Bleak House
- Published in monthly parts Mar 1852 - Sep 1853
Read it online | Shop for the Book | Shop for the Video | Illustrations | Locations
Dickens' ninth novel, illustrated by Phiz, was intended to illustrate the evils caused by long, drawn-out suits in the Courts of Chancery. Dickens had observed the inner workings of the courts as a reporter in his youth and observes in Bleak House:
The one great principle of the English law is to make business for itself. There is no other principle distinctly, certainly, and consistently maintained through all its narrow turnings. Viewed by this light it becomes a coherent scheme and not the monstrous maze the laity are apt to think it. Let them but once clearly perceive that its grand principle is to make business for itself at their expense, and surely they will cease to grumble.
Bleak House is often considered Dickens' finest work although not his most popular.
Plot (contains spoilers)
The case of Jarndyce and Jarndyce, in the High Court of Chancery, has been going on for a long time. The current Jarndyce, John, owner of Bleak House, has little hope of gaining anything from it. On her aunt's death
Esther Summerson is adopted by Jarndyce and becomes companions to his wards, Ada Clare and Richard Carstone. Carstone has hopes that the chancery case will make his fortune.
As the story unfolds it is revealed that Esther is the illegitimate daughter of Captain Hawdon and Lady Dedlock. When the Dedlock's lawyer, Tulkinghorn learns of this, and tries to profit by the information, he is murdered by Lady Dedlock's former maid. Lady Dedlock flees and later dies at the gates of the cemetery where Hawdon lies buried.
John Jarndyce has fallen in love with Esther and asked her to marry him. She consents out of respect for Jarndyce but during the engagement she falls in love with Allan Woodcourt. When Jarndyce learns of her feelings for Allan he releases her from the engagement and she marries Woodcourt. The chancery case comes to a close with court costs eating up all of the estate. Carstone, who has married Ada, dies in despair.
Characters:
Character descriptions contain spoilers
Bleak House Links:
The Dickens Page
The Victorian Web
Bartleby.com
Wikipedia - Bleak House
PBS - Bleak House
Soft Soaping Dickens: Andrew Davies, BBC-1 and 'Bleak House'
- Robert Giddings examines the popular belief that were Dickens alive today he would be writing soap operas for television
Dickens and the Dinosaur
- by Herb Moskovitz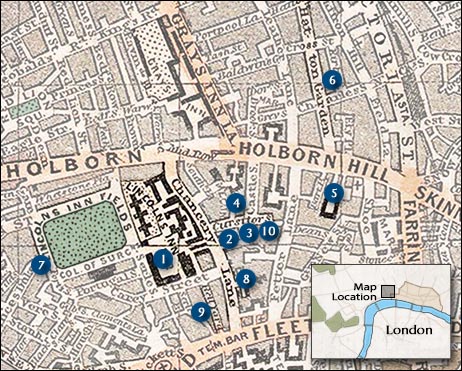 Lincoln's Inn: Kenge and Carboys offices, Jarndyce and Jarndyce heard at Lincoln's Inn Hall, also at Westminster Hall
Cursitor Street: Sol's Arms Tavern
Cursitor Street: Krook's Rag and Bottle Shop - Miss Flite, Gridley, Nemo (Capt Hawdon), and Tony Jobling (Weevle) residence
Cooks Court: Snagby's Law Stationer Shop
Thavie's Inn - Jellyby's home
Hatton Garden - Jellyby's home after bankruptcy
Lincoln's Inn Fields: Tulkinghorn's residence
Symond's Inn: Vholes' office, Richard and Ada's residence after marriage
Bell Yard: Neckett's
Cursitor Street: Coavinses Sponging House