Nicholas Nickleby
- Published in monthly parts Mar 1838 - Sep 1839
Read it online | Shop for the Book | Shop for the Video | Illustrations | Locations
Dickens third novel was illustrated by Hablot Knight Browne (Phiz). Dickens and Browne, traveling under assumed names, visited the notorious boarding schools in Yorkshire to do background research for the novel, which deals with the mistreatment of children sent to these schools. Although the central theme takes on this serious subject, Dickens mixes in some of his best comic writing.
Dickens biographers George Gissing and G.K. Chesterton praised the comic characterization of the novel and Peter Ackroyd, in his biography Dickens, says that Nicholas Nickleby is "perhaps the funniest novel in the English language."
Plot (contains spoilers)
Hoping to provide support for his mother and sister after the death of his father Nicholas turns to his uncle Ralph for assistance. Ralph wants nothing to do with his late brother's family and feigns to help Nicholas by securing a position as assistant master at the Dotheboys Hall school in Yorkshire run by unscrupulous Wackford Squeers. Nicholas soon becomes disgusted with Squeer's treatment of his pupils and leaves, giving Squeers a sound thrashing and liberating Smike,
whom Squeers has mistreated for years.
Nicholas and Smike move in with Newman Noggs in London and then travel to Portsmouth where they take up acting in Crummles stage company. On hearing of the mistreatment of his sister at the hands of his uncle, Nicholas and Smike return to London. Nicholas secures employment with the philanthropic Cheeryble brothers and later marries Madeline Bray whom he has helped rescue from the evil designs of Ralph and Arthur Gride.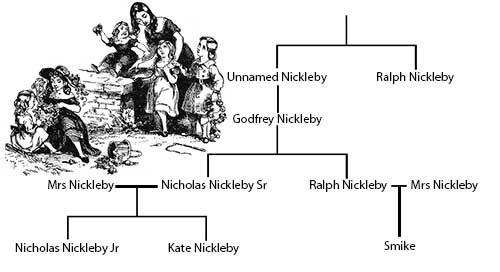 Characters:
Character descriptions contain spoilers
Nicholas Nickleby Links:
The Dickens Page
Bartleby.com
Robert Giddings review of the 2002 film version
Wikipedia - Nicholas Nickleby

The Cheeryble Brothers
The story of the benevolent brothers who aid Nicholas and his family resulted in Dickens getting hundreds upon hundreds of applications for loans, gifts, and other requests for aid to be forwarded to the originals of the Cheeryble brothers. In the preface to the Cheap Edition of Nicholas Nickleby in 1848 Dickens claimed that the brothers were based on real persons "with whom I never interchanged any communication in my life". Paul Davis in The Penguin Dickens Companion says that the brothers were based on William and Daniel Grant, Manchester calico merchants whom Dickens met in 1838.
Dickens Describes the Boys at Dotheboys Hall


Pale and haggard faces, lank and bony figures, children with the countenances of old men, deformities with irons upon their limbs, boys of stunted growth, and others whose long meagre legs would hardly bear their stooping bodies, all crowded on the view together; there were the bleared eye, the hare-lip, the crooked foot, and every ugliness or distortion that told of unnatural aversion conceived by parents for their offspring, or of young lives which, from the earliest dawn of infancy, had been one horrible endurance of cruelty and neglect.
There were little faces which should have been handsome, darkened with the scowl of sullen, dogged suffering; there was childhood with the light of its eye quenched, its beauty gone, and its helplessness alone remaining.
Excerpt:
There once lived, in a sequestered part of the county of Devonshire, one Mr Godfrey Nickleby: a worthy gentleman, who, taking it into his head rather late in life that he must get married, and not being young enough or rich enough to aspire to the hand of a lady of fortune, had wedded an old flame out of mere attachment, who in her turn had taken him for the same reason. Thus two people who cannot afford to play cards for money, sometimes sit down to a quiet game for love.